Rates & Reservations



Rates are based on 2 guests per room & 4 guests per suite/PH. Rates do not include 9% lodging tax. Charge for extra guests $30/pp/nite plus 9% tax. Max guests in room – 4. Max guests in Suite & PH – 6. Rates below are for advanced & directly made reservations only – an upcharge may apply to other bookings.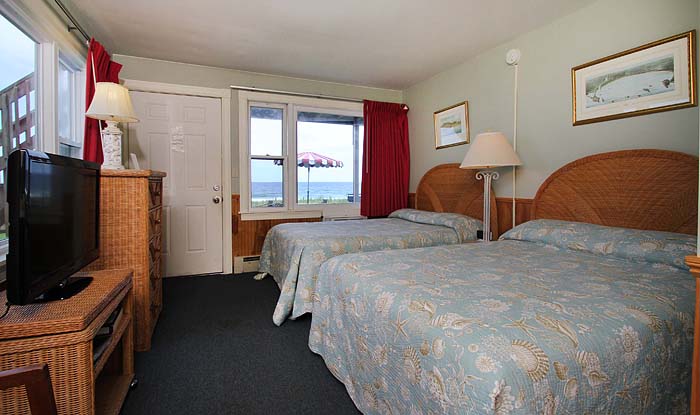 Balance is due 30 days before arrival. Cancellation Policy – 30 days for rooms and 45 days for Suites & Penthouse. Due to the seasonality of our business, there are no refunds in the cancellation period. A $40 cancel/processing fee applies to all cancellations and any changes to reservations. Free wifi! Free parking for one auto! Free cots!
Telephone: 207-934-4235 • Email: skylark@maine.rr.com
WE ARE A VAPE FREE PROPERTY. ALL ROOMS & SUITES ARE SMOKE FREE/VAPE FREE! Smoking permitted in outside areas only. Sorry, no pets. PENTHOUSE RENTED TO NON-SMOKERS ONLY – NO VAPING. Free Wi-Fi included in all rooms.
| | | | | | | |
| --- | --- | --- | --- | --- | --- | --- |
| 2023 Rates | Ocean View North | Ocean View South | Ocean Front | 1st Floor 1 BR Suite | Deluxe 2 BR Suites | Penthouse |
| May 17 - 25 | | | | | | |
| Sun - Thurs | 90 | 95 | 105 | 135 | 159 | 235 |
| Fri & Sat | 100 | 100 | 110 | 149 | 179 | 255 |
| Weekly (nite) | 85 | 90 | 99/105 | 129/135 | 159/169 | 230/250 |
| Memorial Weekend May 26- 28 | 110 | 139 | 159 | 189 | 225 | 299 |
| May 29 - June 1 | | | | | | |
| Sun - Thurs | 90 | 99 | 119 | 155 | 169 | 255 |
| Fri & Sat | 100 | 105 | 129 | 175 | 199 | 275 |
| Weekly (nite) | 85/95 | 90/99 | 99/120 | 145/165 | 159/189 | 245/265 |
| June 2 - 8 | | | | | | |
| Sun - Thurs | 115 | 125 | 159 | 185 | 215 | 279 |
| Fri & Sat | 125 | 135 | 175 | 210 | 239 | 349 |
| Weekly (nite) | 110/120 | 120/130 | 150/165 | 175/199 | 199/229 | 269/339 |
| June 9 - 15 | | | | | | |
| Daily | 165 | 175 | 215 | 245 | 275 | 359 |
| Weekly (nite) | 155 | 165 | 205 | 235 | 265 | 349 |
| June 16 - 29 | | | | | | |
| Daily | 199 | 215 | 275 | 295 | 335 | 489 |
| Weekly (nite) | 189 | 199 | 265 | 285 | 320 | 479 |
| June 30 - August 19 | | | | | | |
| Daily | 235 | 269 | 315 | 415 | 425 | 559 |
| Weekly (nite) | 225 | 259 | 299 | 399 | 409 | 549 |
| August 20 - 26 | | | | | | |
| Daily | 199 | 225 | 245 | 315 | 335 | 529 |
| Weekly (nite) | 189 | 215 | 235 | 299 | 320 | 510 |
| August 27 - 31 | | | | | | |
| Daily | 149 | 169 | 199 | 245 | 245 | 439 |
| Weekly (nite) | 139 | 159 | 189 | 235 | 235 | 419 |
| Labor Day Weekend Sept. 1 - 3 | | | | | | |
| (Nightly) | 215 | 249 | 279 | 299 | 329 | 475 |
| Sept. 4 - 16 | | | | | | |
| Sun - Thurs | 129 | 145 | 175 | 205 | 239 | 299 |
| Fri & Sat | 149 | 165 | 199 | 229 | 279 | 349 |
| Weekly (nite) | 119/139 | 135/155 | 165/189 | 195/219 | 229/269 | 289/339 |
| Sept. 17 - Close | | | | | | |
| Sun - Thurs | 109 | 125 | 169 | 179 | 189 | 279 |
| Fri & Sat | 139 | 155 | 185 | 199 | 239 | 339 |
| Weekly (nite) | 99/129 | 115/145 | 159/175 | 169/189 | 179/219 | 269/325 |